Through his music and actions, Glen Caradus hammered home the message that we need to think about and care for our natural environment now – not tomorrow, not week or next month, but today.
On Saturday August 7, the Peterborough musician and puppeteer will take his life mission to a whole new level, cycling 350 kilometers on his 21-speed bike to raise awareness and fund the climate-related programming offered by Peterborough GreenUP.
Departing from Runner's Life on Charlotte Street at 5 a.m., Caradus will cycle through the Stoney Lake area, head to Apsley and Coe Hill, and make the journey west to Haliburton and Bobcaygeon before return to Peterborough for its scheduled arrival at 7pm on arrival. line on Charlotte Street back to Runner's Life.
Advertisement – story continues below
According to Caradus, the 350-kilometer distance goal was chosen by design, not by accident.
"Climate science says that for every million molecules of air there shouldn't be more than 350 molecules of carbon," he explains. "What is happening with the burning of fossil fuels is that we are now up to 420 parts (of carbon) per million, so we are seeing the effects of climate change as a result."
"The distance may be longer than your average bike ride," he says. "A lot of people go on great hikes, it's not unique, but linking it to that number 350 is different."
With his trip still in a month – the rain date is Sunday August 8 – the total amount raised is approaching $ 1,500. This is in addition to sponsorship from Runner's Life, For Our Grandchildren and the Kawartha World Issues Center which covered the costs of a promotional video and related material. Those wishing to donate to the ride can do so through Peterborough GreenUP at greenup.on.ca/350-climate-ride.
VIDEO: 350 Climate Ride with Glen Caradus

The promotional video was shot by local filmmaker Jeremy Kelly and features the puppets which are a large part of Caradus' environmental-themed live musical presentations. The fun but useful video features two of her songs – "Stand Up For What We Stand On" and "The Bike Song" – recorded by local music producer James McKenty.
"A lot of people find the climate problem quite heavy, so I'm trying to find ways to make it fun," Caradus explains.
Preparing for this ambitious trek is something Caradus has been doing for around 40 years, competing in running events and, for the past 15 years, triathlons, including Iron Man events.
Advertisement – story continues below
"It gives me some confidence," Caradus says. "One of the benefits of the pandemic is that I had a bit more time to train. I go out every day. On the tenth day, I take a day off and just do a light run to let my body rest a bit.
"My bike isn't very fancy, but it has certainly been a good friend for 12 years.
"Since April, I have traveled approximately 3,500 kilometers. I still have three weeks of hard training and then I will start to slow down.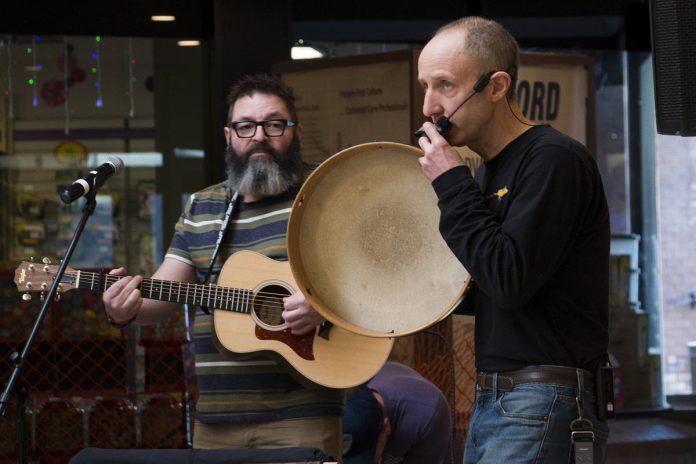 Phil Stephenson has been Caradus' musical partner for over 20 years. Together they have toured across the country, bringing their Paddling Puppeteers show and messages around nature and Canadian history to audiences young and old, in just about any setting you can think of. Stephenson, for his part, is confident that his friend will make it to the finish line in good shape.
"We have so much in common, other than the fact that he really is an athlete," he said.
"It's nothing for him but I've always been blown away. I am the opposite. I was born with flat feet and left-handed. I was the last guy to be picked when we picked teams when I was a kid. This is why I turned to the arts. Not only is Glen an incredible musical artist, he has this truly phenomenal ability. I find it so inspiring. 350 kilometers. It's mental but it's great. It's a killing.
When asked if there was any chance he'd get on a bike and join Glen on his ride, Stephenson laughed.
"I joke that I am his spiritual advisor. I'm the guy who cheers from the sidelines. I would be lucky to do three and a half kilometers.
Advertisement – story continues below
Now teaching a forestry school program for Rowan Tree Children's School in Peterborough, Caradus has taught outdoor education programs for years at Camp Kawartha and has also performed regularly at family events at the Ecological Park in GreenUP. This corresponds directly to its primary ambition to help young people to establish "a connection with nature".
"And nowadays there's the whole mental health aspect of getting kids out of their screens and out in the fresh air. With the pandemic, in the yard or in a nearby park, people are connecting more with nature. I am often in Jackson Park and I see a lot more people there.
Caradus adds that while he hopes his bike inspires people to think more deeply about the effects of climate change and donate a few dollars to GreenUP, every time he's on a bike is also inspirational. for him.
"When I took the tour last summer and just recently to get a feel for this, much of my day was spent being inspired by what surrounds us. A lot of times when I ride a bike I sing and it reminds me of the song lyrics, so that's inspiring there too.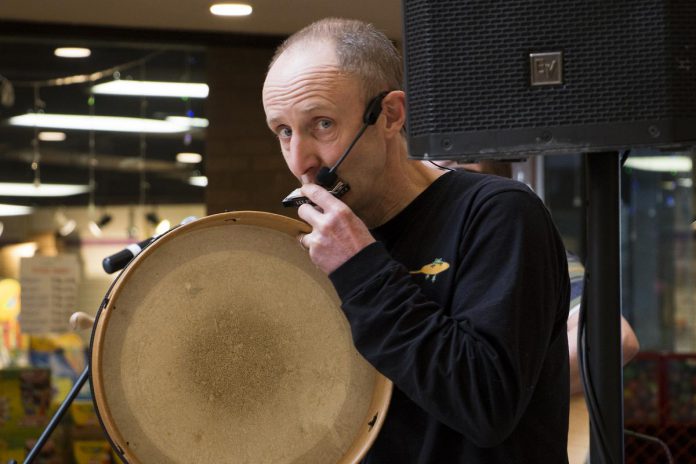 From where he sits, Stephenson says no one can dispute the passion of his longtime collaborator.
"Whatever he does, he never takes a dime. It's all about climate change and awareness. That's what he wants to do, not what he has to do. I literally play music with one of the best athletes in Peterborough. I am inspired and I hope everyone will be too.
For more information on The Paddling Puppeteers, visit philandglen.com/paddling-puppeteers.
For more information on Peterborough GreenUP and its programming, visit greenup.on.ca.